Slip N Slides

REGULAR PRICE: Any 4- HOUR period before 8 PM; DO NOT include or factor in delivery times when booking.

ONLY select your party START time and END time; we will schedule your delivery and set-up times accordingly.

If you need more time, you can add more time and the system will automatically calculate the new price for you. If you need assistance call us at 214-277-4953 or email us at [email protected].
Cool down from this blazing Texas heat with a rental from Fun Times Party Rental. Slip in Slide rentals are a great choice for wet & wild excitement on a hot summer day. Especially when your space is limited and one of our big water slides will not work. Choose from a variety of themes and sizes to suit your celebration space. Browse our slip and slide inflatables below. Then click on the image or "More Info" link for additional information and to make a reservation. Choose from a single lane slide, double lane, or triple lane for 3x the fun. All our inflatables have pools at the end. So grab your garden hose, hook it up to the slide we bring, and have yourself a cool down. Fun Times Party Rentals has the blow up slip and slide inflatables you need to cool down. This is an amazing option for not just kids. Adults can compete with each other and stay cool as well. Most of our inflatable slip n slides are double slip and slide rentals perfect for your competitive guests. Book online here or call our office for more details today. But if you need a large slip and slide, check out our River Rapids Slide
This is an amazing option for not just kids. Adults can compete with each other and stay cool as well. Book online here or call our office for more details today. But if you need a larger unit, check out our
River Rapids Slide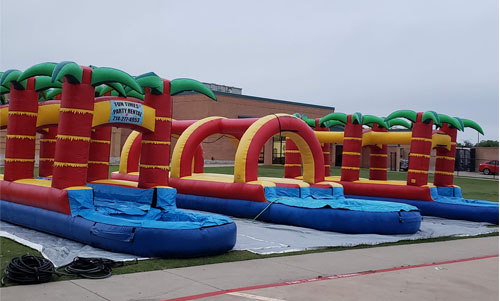 Renting slip and slides can be a daunting task. Luckily for you, Fun Times Party takes some of the overwhelming nature out of it. With our high quality commercial inflatables, we are here to make sure your decisions leave you with great customer satisfaction.
Notate your date, choose your delivery and pickup times. Pick the inflatable slide you want and let us deliver and set it up for you.
Need something a little bit different? Look at our dunk tank rentals too. Our blow up water slides are a perfect match for your birthday parties, backyard parties, or larger events.
Are you looking to make a statement? Are you looking for one stop party rental shopping? Are you looking for a company that offers top notch customer service, on time delivery, and clean sanitized commercial grade slip n slides? Look no further than Fun Times Party Rental for all the things above and more. We love our customer and let the google reviews show, our customers love us too! We take pride in each party we visit and all our rental products we offer.
If you have a special request, give us a call or send us an email. If you have specific questions about our rental products talk to us. Our phones are ready to assist you and any questions you might have. We have been doing this for over 17 years and are professionals at what we do.
Customers Love Fun Times Party Rental
"We had the most amazing experience with Fun Time! They were very professional and timely! Very kid friendly! The owners are very accommodating and friendly! The set up and take down went very smooth! The kids had a ball. I will definitely use them for my future events! I highly recommend their business!"
- Dorie Neal
"We had a great experience renting a bounce house for my daughter's birthday. They delivered it well before our party time and picked it up on time. They were nice, professional, and very quick. I would definitely recommend them and use them again."
- jkats13
"Great service and reasonable price. Kids just loved the bounce house. Thanks Fun Times party rentals."
- Tiya Tani's World
Previous
Next