What's the Difference Between Inflatables Anyways?
While all bounce houses are called inflatables, all inflatables are not bounce houses. When I was a kid, they were referred to as bounce houses, space walks, or moon bouncers. Although there were many names, they were all the same.
Approximately 15ft x 15ftx 10 to 14ft tall. There was a bouncing pad on the inside and lots of room for you to jump around.
30 years ago, we had bounce houses. In the past, we only had bounce houses. However, now we have a wide variety of bounce houses available in different sizes and designs.
Additionally, we also offer water slides, inflatable games, obstacle courses, dry slides, slip n slides, and more. With so many options and designs to choose from, our staff is constantly being asked "which is the best one for me" or "what is the difference".
Unfortunately, there is no short answer, but I do have answers for you. Let's dive into the many functions, pros and cons, expectations, and best age groups for each of the 6 different types of party and event inflatable rentals for kids and adults to use and enjoy.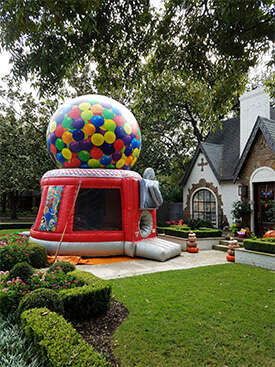 Bounce Houses
Bounce house rentals
are the staple in the inflatable party rental industry. Not only are they the least expensive inflatable rental, but it is the most standard and the original inflatable available.
Generally, these units are square and have castle points on the top corners, however, today they are designed in a vast number of styles, shapes, and colors. Regardless of the various designs, the concept is to climb inside where there is an inflatable bed or bouncing pad and jump around.
Approx 36 kids per hour
Bouncing padSome have basketball hoops inside
Few have popup (obstacles) inside
Rarely have ball pits inside
Perfect for smaller events due to size and number of kids per hour
Great for small yards and tight fits
Perfect for kids 2 years to 12 years old
Not good for larger events because the lines will back up quickly
Not many different activities – mainly just jump around (which younger kids enjoy, older kids need more activities)
Fire Truck Bounce House Castle Style Moonwalk Bounce House Cleaning Day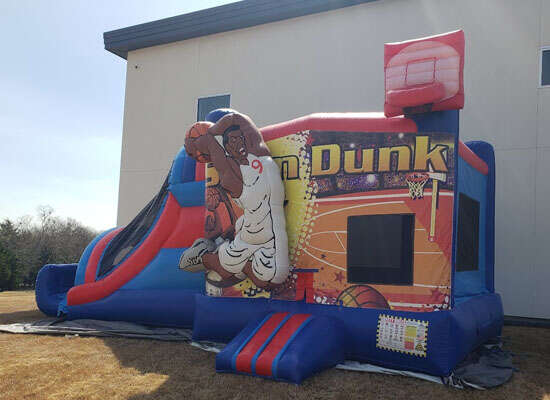 Inflatable Combos
Like the name implies, combo inflatables are a combination of two or more different activities all warped up into one piece. As a result, the various activities are smaller as they would be as a standalone piece.
For instance, most combos are a combination of a slide and a bounce house. Usually, a combo will have a smaller bounce house area and a shorter slide. Inflatable combos are a great option when you are looking for more than one activity for the kids to do.
Approx 60 kids per hour
Includes 2 or More of the Following: Bouncing Pad, Slide, Climbing Wall (to the Slide), Basketball Hoop, and Obstacles
Perfect for small to smaller-medium parties and events
Perfect for kids 3 years to 14 years old
Can cause a backup if the kids in the bouncing area do not want to slide down the slide and allow other kids in
Rainbow Castle combo (wet or Dry Use) Toddler Combo (@ SMU) Full Size Bounce and Slide and Amazing Maze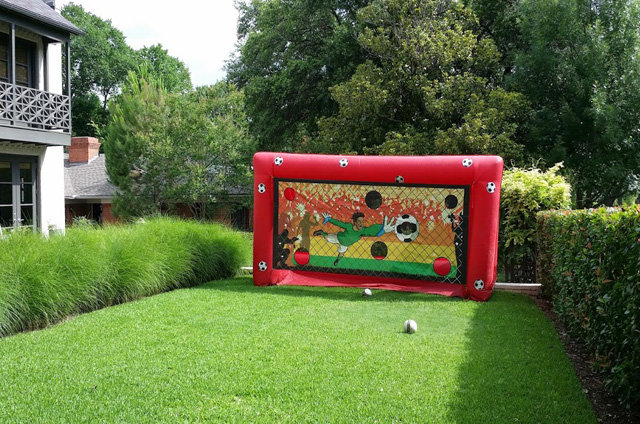 Interactive Games
Interactive games are the latest and hottest options available in the inflatable industry. Most games increase competitiveness which is a great way to sell more tickets at your school carnival, team building, and to create a friendly competition among friends and family.
Large variation in range due to the different types of games. 30 kids per hour up to 250 kids per hour
Many different types of games from concentration to sports to classic old games
Perfect for kids 6 years to adults
Due to the large number of people per hour and the lower price point these are great for medium and large events. They are also a great add on to other inflatables being rented.
Not great for small kids
Possibly do not command attention from attracting people that are passing by because they are not very large
Rapid Fire Bungere Game Quarterback Challenge Lumberjack Axe Throw Game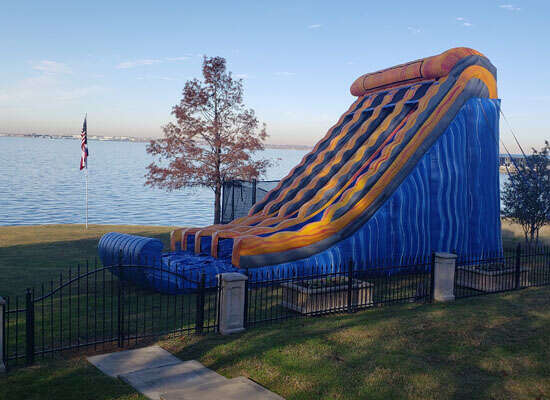 Dry/ Water Slides
Slides are a great addition to any party. Especially when it's a scorching hot Texas summer and your slide is wet.
Slides are the most versatile inflatable as well. You can use them in your backyard for a small gathering. They can also be used at a big city event that attracts thousands of people. There are different prices and sizes available for them. Water slide rentals are definantly the wat to go during summer months.



200 plus kids per hour

Climb up and slide down. Exit and repeat.

Great for kids 2.5 years to adults

Slingle, Double, and Triple Sliding Lane options

Bumper or pool options for waterslides

Large slides command lots of attention from people passing by

Ranges from 13ft tall to over 35ft tall
Surf's Up Water Slide Double Lane Rainbow Slide Fire and Ice Double Lane Slide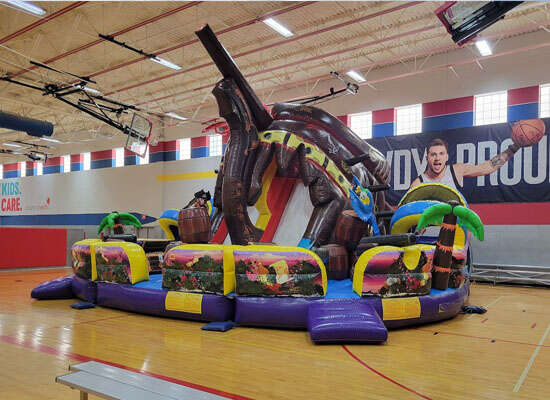 Obstacle Courses
Obstacle courses are the pinnacle inflatable for public events. They are great for schools, churches, HOA events, city functions, daycares, camps, and more. They are used by high school football teams to blow off some steam after summer workouts, and before the season starts. Also used as wipe-out challenges, friendly competition, and more.



200 plus kids per hour thru majority of obstacle courses

Slide, Climbing wall, obstacles to go under, over, and thru

Great for kids 5 years of age to adults

Commands lots of attention by guests and passer-by people

Princes higher than most other inflatables but does offer great value based on the number of kids that can use it per hour
Backyard Obstacle Course Deluxe Obstacle Course Super Deluxe Obstacle Course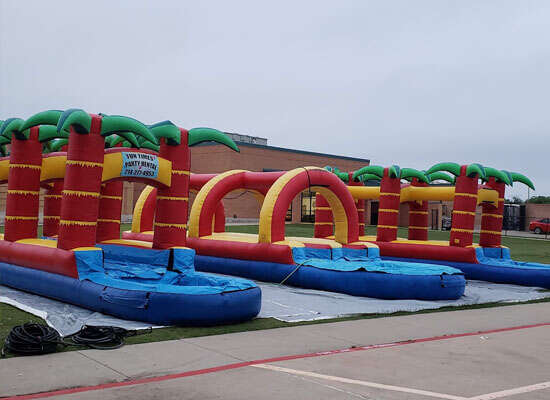 Slip N Slides
Another great option to beat the scorching summer heat Texas brings. Our slip n slides are either single lane, double lane, or triple lane. The number of lanes represents the amount of people that can use it at the same time, which also increases the number of people that can use it per hour as well.



75 to 200 plus kids per hour depending on the number of sliding lanes

All of our units have pools at the end but they are manufactured with bumpers too

Great for kids 5 years of age to adults

Usually 8ft to 15ft wide and 28ft to 38ft long

does require you to manually build up enough energy to slide down because it is flat